Deep Foundation Solutions & Certified Auger Cast Pile DOT Contractor in All of Florida
DOT certified contractor in foundation systems for commercial & industrial applications in Florida, including CFA piles
L.R.E. Ground Services, Inc. was hired by a General Contractor to install auger cast piles at a property in Clearwater Beach, FL. The property owner wanted to build a pool onto the structure, so compression auger cast piles were required to provide support, withstand scour, and endure coastal weather conditions.
L.R.E. Ground Services, Inc. offers a full range of deep foundation solutions, including auger cast piles, displacement piles, and caisson piles. We are a licensed contractor in Miami, Florida, and we excel in deep foundation services thanks to our experience and technology.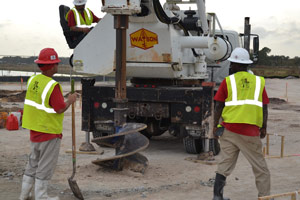 Advanced equipment. Our modern piling rig allows us to perform deep foundation services quickly and effectively.
We tackle jobs that few other contractors can. Our Casagrande B175XP rig, manufactured in Italy, allows us to carry out bigger and more complex projects like large buildings, environmental, sound walls, bridges, parking garages and more.
Call us at 1-844-206-2190 or click below to request a quote and we will have one of our commercial foundation specialists contact about your project.
Why choose our deep foundation services?
Quick setup and tear down
Quick mobilization
Ability to work in tight spaces
Ability to penetrate rock
Data system that provides live feedback to engineers and general contractors
Data system that ensures a perfect pile every time
Deep Foundation Systems
We are experienced with a variety of different pile systems. Our commercial foundation experts will help choose the best foundation pile for your construction project. Some of the different pile types we work with include: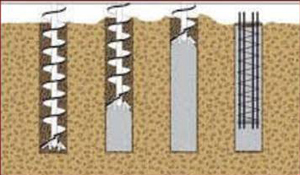 Auger cast installation steps.
Auger Cast Piles
Also known as continuous flight auger piles (CFA), augercast piles are deep foundation solutions that are cast-in-place, using a hollow stem auger with CFA. The auger is drilled into the soil and/or limestone to the specifications of the engineer. The auger is then slowly extracted, removing the drilled soil/rock as concrete or grout is pumped through the hollow stem. Reinforced steel is then lowered into the wet concrete or grout. The completed design resists comprehensive uplift and lateral loads. While auger cast piles are more commonly used in commercial applications, they can also be installed under residential foundations, especially larger ones that are built on or near the water.
Displacement Piles
Auger displacement piles provide a fast, quiet alternative to driven type piles. Displacement piling produces little spoil during construction and is most often used for sites with contaminated soils or in urban areas. Like the CFA system, displacement piles are built around a hollow stem auger, but is differentiated by the tapered shaft and full-displacement body behind the tip of the auger. As the auger enters the ground, the soil within the auger flights is displaced outward over the tapered section, and the surrounding soil is compacted. Displacement piling differs from CFA or bored pile construction such that the soil is laterally displaced during installation rather than excavation.
Caisson Piles
Caisson piles are most often used in the construction of bridge piers and other structures that need to be installed beneath a river or body of water. A borehole is drilled into the ground and concrete is placed into the borehole to form the pile.
Micropiles
Micropiles, also known as minipiles, are constructed using high-strength, small-diameter steel casing or threaded bar. They typically used for underpinning, or strengthening the foundation of an existing building or structure. Micropiles are also used to create foundations for highways, bridges, and more. They are especially useful at sites with difficult or restricted access or environmental sensitivity.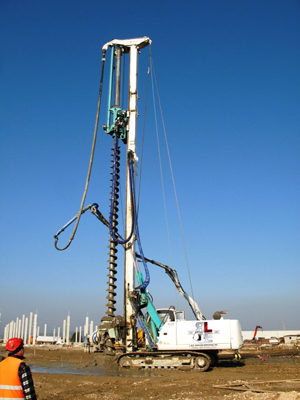 Installation of auger cast piles using the Casagrande rig.
Installation of continuous flight auger pile for an industrial project.
Contact us about your deep foundation project
For questions about pricing or technical information on augercast piles, displacement piles, or caisson piles, contact us today to speak with one of our commercial project managers. We will gladly provide you with an on-site consultation and written estimate for your deep foundation project.
Looking for a price? Get a no cost, no obligation free estimate.