Auger Cast Pile Installation in All of Florida
L.R.E. Ground Services, Inc. was hired by a General Contractor to install auger cast piles at a property in Clearwater Beach, FL. The property owner wanted to build a pool onto the structure, so compression auger cast piles were required to provide support, withstand scour, and endure coastal weather conditions.
Cost-effective solution and bid opportunities for deep foundation systems. L.R.E. Ground Services, Inc. installs auger cast piles for commercial construction projects in Orlando, Tampa, Saint Petersburg and All of Florida.
Auger cast piles, also known as continuous flight auger piles (CFA), are used for load transfer in deep foundation projects and also for contiguous and secant pile retaining wall construction.
CFA piles are a quieter, faster, very economical alternative to conventional bored piles and driven piles.
Auger cast piles are ideal when piling is needed in soft soil conditions.
Advantages of auger cast piles
Reduced noise and vibration (beneficial for pile installation in heavily populated areas)
Can penetrate weak rocks
Speed of installation over other pile types
Quick, cost-effective option for projects requiring large numbers of piles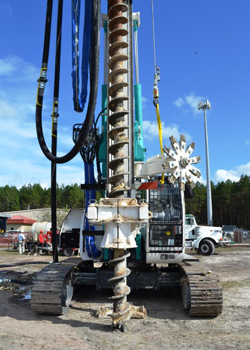 Casagrande B175XP auger cast pile rig.
Auger Cast (CFA) pile installation process in Florida
A CFA pile is cast-in-place using a hollow stem auger with continuous flights. The pile is drilled into the soil to the final depth in one continuous process, contributing to the speed of installation and minimizing noise and vibration.
As the auger is withdrawn, the soil is brought to the surface and at the same time, concrete or grout is pumped through the hollow center of the auger stem to the base of the auger, providing continuous support of the hole. When necessary, reinforcing bars are then placed into the grout-filled hole immediately after withdrawal of the auger.
A reinforcing cage is inserted into the grout to strengthen the concrete.
CFA piles can be constructed as single piles for a soundwall, however, CFA piles are typically installed as a group, such as for a deep foundation.
With our Casagrande B175XP rig, our experienced drill rig operators are able to easily penetrate rock and perform piling in tight spaces.
We also use a data acquisition system to ensure the best possible CFA cast pile installation every time.
Auger cast piles typically work best in the following soil conditions:
Medium to very stiff clay soils
Cemented sands or weak limestone
Residual soils
Medium dense to dense silty sands and well-graded sands
Rock overlain by stiff or cemented deposits
Contact us about your project today!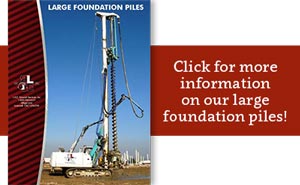 L.R.E. Ground Services, Inc. is an Auger Cast (CFA) piling contractor providing both design and construction services for CFA projects of all sizes. If you'd like to discuss the scope of your project with a commercial project manager, contact us today – we'd love to hear from you!
To submit a bid opportunity for your foundation piling or other commercial project, call us at 1-877-281-8478 or fill out our online contact form.
Looking for a price? Get a no cost, no obligation free estimate.