Caisson Pile/Drilled Shaft Installation in All of Florida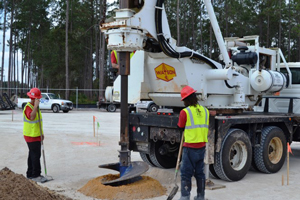 We use advanced drill rigs for accurate, safe, reliable installation of caisson piles.
Caisson piles, also known as drilled shafts or drilled piles, are a proven, cost-effective deep foundation system. A caisson is a deep foundation element that is constructed using an auger. They are typically used for buildings, bridges and large structures, where large loads and lateral resistance are major factors.
L.R.E. Ground Services, Inc. is a leading caisson foundation company, providing quality foundation services for commercial jobs of all sizes in Orlando, Tampa, Saint Petersburg and throughout Florida. Call us or click below to request an inspection and estimate for your project.
Advantages of caissons
Minimizes pile cap needs
Less noise and reduced vibrations
Easily adaptable to varying site conditions
High axial and lateral loading capacity
Ideal where small footprint is desirable
Ideal for sites with restricted access or low headroom
Drilled shaft installation methods
Drilled shafts (or caisson piles) can be installed in a variety of soil and rock profiles and work best in situations where a strong bearing layer is present. Caisson foundations are formed by excavating a hole and constructing a cast-in-place reinforced concrete foundation within the hole. Drilled shaft foundations support axial forces through both side shearing and end-bearing resistance. The large diameter reinforced concrete foundation is also capable of providing substantial resistance to lateral and overturning forces.
There are three different drilled shaft construction methods. In many cases, a combination of the three methods will be used during the installation.
Our crew designing and installing foundation caissons.
Dry construction: The dry hole method is used for stable soil and rock that is above the water table and won't cave when the hole is drilled to its full depth during installation of the drilled shaft. Many times a surface casing is used to prevent caving. The casing may be temporary or permanent.
Casing construction: The casing method is used under soil conditions where caving or excessive soil or rock deformation can occur when the shaft is excavated. A casing can also be used to extend the shaft excavation through water or permeable strata.
Wet construction: The wet method is used when soil conditions do not allow for dewatering of the shaft excavation. During the drilling of the hole and placement of the reinforcement and concrete, the hole is kept filled with a fluid to maintain stability.
Our experienced commercial foundation technicians can help select the best construction method to ensure cost-effective and reliable installation of your drilled shaft foundation. We have the experience and advanced equipment to overcome any jobsite challenges, such as limited access, low headroom and sensitive environments.
Get a quote for your caisson foundation project
We work with you to design and build the right caissons for your next drilled shaft project. Contact us today to request an estimate for your deep foundation project in Sarasota, Spring Hill, Hudson, New Port Richey, Daytona Beach or nearby.
Looking for a price? Get a no cost, no obligation free estimate.