Exterior Drainage Systems in Orlando, Tampa, Saint Petersburg, FL
Solutions for all your property drainage problems
Do you have pooling water around your foundation or water in your basement or crawl space? You might need better exterior drainage. L.R.E. Ground Services, Inc. offers a wide range of exterior drainage system options. We can design a solution to solve your specific drainage problem.
For a free cost estimate on a yard drainage system, contact us today. We offer an on-site evaluation at no obligation in Orlando, Tampa, Saint Petersburg and the surrounding areas.
---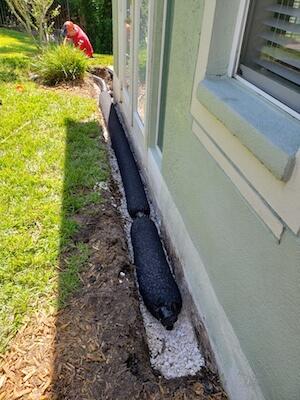 French Drain
A French drain can help solve a variety of drainage problems. It disperses water over a large area through a buried perforated pipe. The EZ-Flow French Drain solution is a subsurface drainage alternative to a traditional stone-and-pipe drainage system. EZ-Flow is ideal for retaining walls, foundation and footing perimeter drains, and landscape drains. The gravel-free EZ-Flow system outperforms traditional systems, saving time and money.
---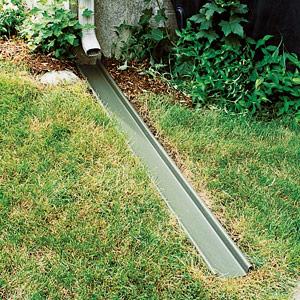 Downspout Drainage
Roof water can cause severe water damage without proper drainage. A gutter and downspout system helps drain water away from your home's foundation. The RainChute, RainChute EZ, and LawnSpace Outlet downspout extensions help prevent roof water from pooling near the foundation. Choose from above-ground, underground, and recessed extensions.
---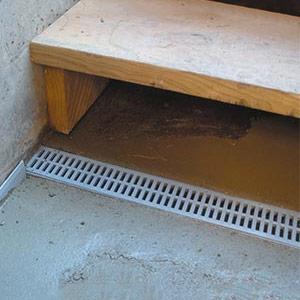 Trench Drain/Channel Drain
The TrenchDrain system is a surface drainage solution that prevents water from entering your house through doorways and stairways. The drainage solution collects water and drains it to a perimeter drainage system and sump pump. TrenchDrain can help prevent water damage to your basement or garage, keeping your home safe and dry.
---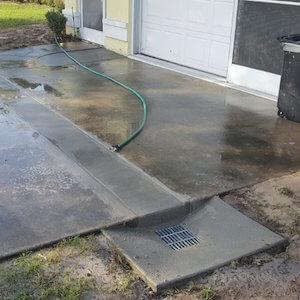 Catch Basin
A catch basin is placed in the ground near areas of standing water to improve yard drainage and help prevent damage to the home and property. Excess water and sediment drain through a grate in the top of the catch basin. The water collects and drains into an underground drainage system.
---
Percolation Trench
A percolation trench is a shallow excavated trench filled with gravel or crushed stone. A percolation trench, similar to a French Drain or dry well, is used to control stormwater runoff to prevent flooding and erosion. A percolation trench is commonly used to treat runoff from sidewalks and driveways.
---
Get a free cost estimate on a yard drainage system
If you're interested in having an exterior drainage system installed to help protect your home's foundation and your landscaping, contact L.R.E. Ground Services, Inc. for a no-obligation consultation and free price quote today, offered in Orlando and throughout Central Florida.
Looking for a price? Get a no cost, no obligation free estimate.