Foundation Repair & Sinkhole Repair in Florida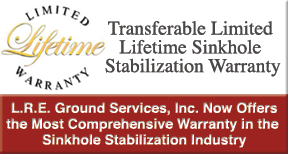 We are proud to be offering the PolyLevel polymer injection process for quick and effective concrete lifting and leveling.
L.R.E. Ground Services is the industry leader in foundation repair and foundation stabilization for residential and commercial properties, roads and anywhere there is a sinkhole or foundation concern. Since 1989, our proven formula for success includes delivering superior customer service through dedication, hard work, expertise, strong safety guidelines, operating efficiency... and teamwork!
L.R.E. Specializes in: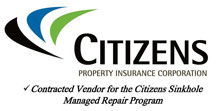 Family Owned & Operated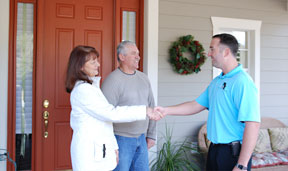 L.R.E. Ground Services, Inc. works closely with insurance companies and homeowners to ensure an efficient, smooth and thorough repair.
Our highly trained and professional staff is available for free consultations.
Lar-Rays Excavating, Inc., began business in Hernando County, Florida, in February 1989. After three years in service it became apparent that services needed to be expanded and hence the emergence of L.R.E. Ground Services, Inc. The company began its operations in the ground modification field repairing sinkholes. It has expanded to include pre-construction soil stabilization and underpinning.
Since 1989, the company has grown from three individuals to over 130 associates, making L.R.E. the largest sinkhole repair company in Florida. Obviously many challenges have been a part of this fast growing business, and L.R.E. has developed innovative ideas to provide superior services to our clients. By using specially designed state-of-the-art equipment, L.R.E. has reduced further damage to structures and landscaping. Our uniformed field personnel are trained to put the client at ease during the repair process by answering all questions in a polite and professional manner. They also remove excess concrete and materials daily and leave the site as neat as possible. In this highly competitive business, our commitment to the client to be professional, honest and clean has enhanced our reputation.
In addition to its sinkhole repair services, L.R.E. Ground Services, Inc. also operates a Construction/Restoration division, which specializes in cosmetic repairs.
Your Free Estimate
Bowing walls, cracked foundations, settling structures, collapsing walls, sagging crawl spaces... When it comes to structural issues, the fully trained experts at L.R.E. Ground Services, Inc. do it all.
Foundation repair is careful work that takes many things into consideration -- prices vary considerably based on how extensive the damage is, local soil conditions, the size of the home, and other variables. That's why we like to send a professional to the site to provide a free foundation repair consultation and quote.
Each quote is provided at no cost or obligation and includes a free, on-site consultation and customized cost quote. We'll discuss the issues you may be having with your foundation, answer any questions you may have, and explain the remedy for your sinkhole stabilization or foundation repair project.
L.R.E. Ground Services, Inc. services the entire state of Florida, including Tampa, Orlando, Saint Petersburg, Bradenton, Lakeland, Sarasota, Ocala, Kissimmee, Daytona Beach, Clearwater, Port Saint Lucie, Largo, Melbourne, Spring Hill, Vero Beach, Fort Pierce, New Port Richey, Palm Harbor, Tarpon Springs, Gainesville, The Villages, Jacksonville, Tallahassee, Fort Myers, Fort Lauderdale, Miami, and the surrounding areas. To schedule an appointment with us, contact us by phone or e-mail today!
Looking for a price? Get a no cost, no obligation free estimate.